Google+ owes some 'people' a big thank you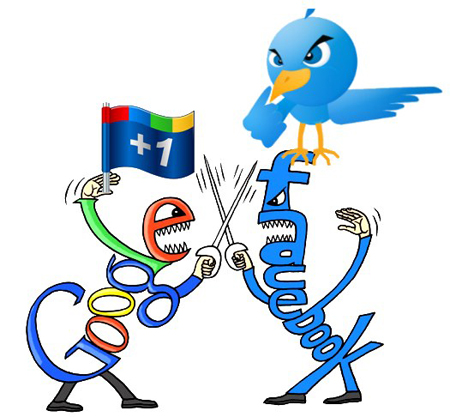 How did you first hear about Google+ (Google Plus)? If you work in my industry you probably read blogs and Mashable/TechCrunch articles for the last 6 months or more about it's approach; however, if you're not in my industry (or related industries) you heard about it through social media channels that already existed. Am I right? And if you heard about it through word of mouth, chances are the person chatting your ear off about some new Google social media mumbo jumbo heard about it through social media.  So what am I getting at?  Google+ got a large portion of its 18 million, through the successes of Facebook, LinkedIn and Twitter's combined registrations. Summated these three platforms have registrations in the billions.
That's right, I said it!  Google owes a big ass "thank you" to their competitors, for their early adoption success. If not for a well paved runway and tons of awaiting passengers that have been cumulated through the blood, sweat, and key strokes of the big three, Google+ would be where? (Rhetorical question of course)  Google has yet to truly promote their newest wave on their other platforms such as YouTube, Gmail, and Google.com.  Once they do that, their true registration numbers will unfold.
By now you may have noticed that at this point I am not in support of Google+'s escapades. And yes, I have an account, but so does Zuck.  I love social media and the web. You could almost say that my career's industry is also my biggest interest.  Thus, I want to see it progress vertically, not laterally.  I see Google+ as just another means to take a re-invented wheel to scale, and promote more over-sharing in an e-world that is already way too noisy. Why doesn't Google use their billions of dollars, and corral of geniuses to create something innovative and groundbreaking?
Do you agree or disagree? Shoot me an email and I will post your responses. The mic is open…